YOXOI AND DRYARN® FOR TENNIS "WARRIORS"
16/06/2020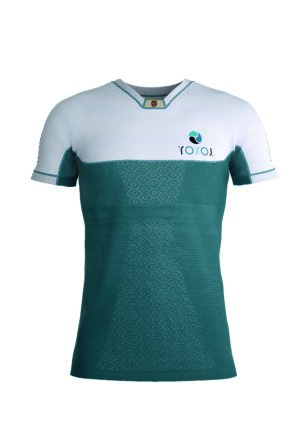 The ancient Samurai warriors are the inspiration behind the new DUEXTRE technical shirt by Yoxoi; the Italian company has looked to the Yoroi, the traditional armour worn by the Samurai, to design this new technical shirt for tennis players – the Samurai of the 21st century – first worn by Bublik at the 2019 US Open and now available in the best sports shops and online.
DUEXTRE is the revolutionary result of a year's research and development, with the precise aim of giving competitive tennis players the most effective possible help to win matches. For exceptional breathability, lightness and thermoregulation, Yoxoi – with its focus on science applied to sport – has selected the best available fibres, including Dryarn®.
Dryarn® is the ideal ally for tennis players when worn in contact with the skin, with its ability to wick sweat to the outside and to give total comfort and high performance with its controlled wearability and water-repellent properties. Dryarn® transfers sweat through the structure of the fabric, keeping the skin dry and promoting a feeling of well-being in differing climatic conditions.  Rather than absorbing the moisture produced by the body during exercise Dryarn® collects it from the skin, transfers it along the surface of the fibres and ejects it to the outside, in an efficient exchange between the skin, the fabric and the environment that ensures maximum comfort. During heavy physical exertion, moreover, Dryarn® is able not only to deal with perspiration in the liquid state but also to regulate how it is conveyed by adapting to changes in its intensity. This allows the body to maintain an ideal micro-climate for the skin even after exercise.
Dryarn® is dermatologically tested and therefore causes no unwanted effects on the skin, especially that of more sensitive people or those with dermatological problems. Highly breathable, Dryarn® resists moulds, moths, bacteria and other micro-organisms.
Structurally, the DUEXTRE shirt is made to give athletes the maximum freedom of movement during sports activities, without forgetting comfort. Working together with professional athletes, the research and development team at Yoxoi has engineered a garment by thinking of the well-being of the athlete in distinct and different areas of the body. The upper part is made of a single seamless piece of fabric, to facilitate speed of movement in the trunk and arms. The textile construction has been conceived to optimise comfort in the different areas of the trunk.
The outer layer promotes rapid evaporation due to its patented three-dimensional textures and patterns.
Micro-cells of air, positioned in areas that typically warm more slowly than the rest of the body, promote natural thermoregulation and protect the muscles from thermal shock.
The upper part is always of a light colour, to absorb as little sunlight as possible and thus delay the increase in body temperature.