Motorbike
When you're an amateur rider, and motorcycling is your hobby or passion, muscular exertion is not particularly significant, as static positions do not require physical exertion, apart from the shoulders and arms. But when motorcycling is competitive, on or off road, a great deal of sweat is produced by the type of clothing and psychological and physical stress affecting the arms, shoulders and back of the rider.
The clothing for this type of activity must meet specific needs, above all safety, and being windproof and waterproof. Thick materials and layers could easily stop the skin breathing, retaining sweat and affecting the rider's wellbeing, in both high and cold temperatures. The thin, lightweight characteristics of Dryarn® garments provide a perfect, protective and breathable membrane, without causing discomfort or restricting movement.
What makes a difference is the partial or total protection that adds layers to garments, and further filters perspiration. As this protection is necessary, the layers underneath should be chosen carefully, for the rider and passenger's comfort and wellbeing.
fast drying

only requires a low temperature wash

only requires neutral detergens

non-iron

durable, colour-fast
THE IMPORTANCE OF THE BASE LAYER
Using base layers made from 100% Dryarn®, a fibre with excellent levels of insulation, which also wicks away moisture, moves molecules of sweat produced by the body towards upper layers, which is not possible with other fibres.
Dryarn® + nylon is also perfect, particularly in summer, as moisture is pushed by Dryarn® towards nylon, which is hydrophilic, and is released into the air, thanks to the ventilation of upper layers.
Depending on the season and temperatures, long-sleeved tops and close-fitting bottoms, or a t-shirt or just a vest can be worn.
readmore
SEASONAL GARMENTS FOR ALL-ROUND COMFORT
Items made from 100% Dryarn® are extremely lightweight and have excellent levels of insulation, plus in colder months they are an optimal solution to move moisture away from base layers to outer layers.
Alternatively, hydrophilic fibres and polyester fleece, if combined with Dryarn® base layers, could be just as good, as they can trap and retain moisture, attracting perspiration: a part of this moisture/condensation then moves towards the jacket lining, but most of the sweat stays in the fleece fabric. When riders undress, they will of course feel their skin is dry, their shirt or fleece will be damp, but they will be in ideal thermal and physiological conditions.
For warmer seasons, Dryarn® should preferably be used with garments made from hydrophilic fibres, such as cotton or nylon, that can absorb the moisture from base layers. However, a Dryarn® garment would perform even better, as it would move this moisture towards the top or jacket lining, for a dry, comfortable feeling.
readmore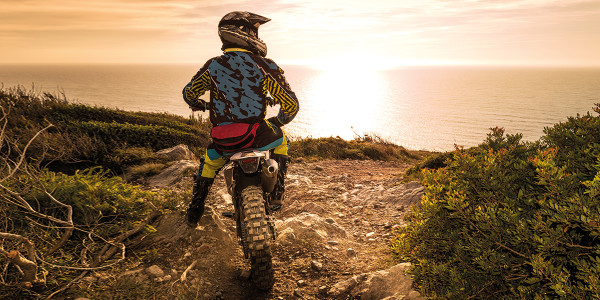 FULL BREATHABILITY
The latest invention for motorcycling base layers is the Dryarn® base layer suit. Particularly suitable for racers or enthusiasts of more extreme motorcycling and designed with a seamless technology, this garment is highly innovative and functional. Besides its composition, it can immediately move sweat away from the skin and is lightweight. This is a fundamental quality, which is extremely useful for improving performance, as the weight of the garment basically stays the same, even when in use, because the action of Dryarn® fibre moves sweat towards the leather suit.
The fibre makes it possible to maintain optimal thermal and physiological conditions, also when external temperatures are extreme, from -40°C to +50°C, thanks to thermal insulation, the excellent ability to release moisture and outstanding breathability.
readmore

Important! To experience the high performance of this fibre, choose garments made from fabrics with a high percentage of Dryarn®