DRYARN® FOR THE TRIALKNIT LINE BY DAINESE
04/04/2018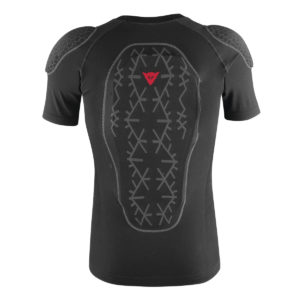 Dryarn® by Aquafil, the world's lightest microfibre , is the main ingredient in the TRAILKNIT line from Dainese; it's a choice that has been repeated for the Spring-Summer 2018 collection and that, with the excellence of the materials used, aims to give bike enthusiasts the very best in comfort.
Lightness, breathability and outstanding thermoregulation are the advantages that Dryarn brings to Dainese technical wear. Thanks to the ability of the microfibre to expel moisture and sweat, Trailknit garments – produced using Dryarn® – offer total comfort and high performance in terms of controlled wearability and water-repellent properties. Dryarn® is able to transfer sweat through the structure of the fabric, keeping the skin dry and giving the wearer a sense of well-being in different climatic conditions, making it the ideal ingredient for underwear.
The TRAILKNIT PRO-ARMOR TEE is a real innovation in the world of mountain biking, a base layer that combines thermal compression garment functions with protection, giving the rider the option of inserting or removing Pro-Armor padding on the shoulders and Flexagon protection on the back, thus eliminating the need for multiple layers. Constructed in Dryarn®, it gives great breathability and thermal insulation in an ultra-lightweight garment. Its low-profile construction and modular design provide great comfort throughout the ride.
TRAILKNIT PRO ARMOR SHORTS, made in Dryarn®, have been conceived to give riders a seat pad that simultaneously provides thermal insulation and the functions of compression garments. Dryarn® creates a breathable barrier that protects from external agents and wicks sweat to the outside, leaving the skin dry. Dryarn® is hypoallergenic and bacteriostatic.  To meet the needs of each individual rider, Pro-Armor pads can be added or removed at the thigh as desired. Finally, the Ener Dry gel pad prevents overheating and ensures maximum comfort in the saddle throughout the day.