AUTUMN OUTDOOR ACTIVITIES: THE VIA FERRATA
28/10/2022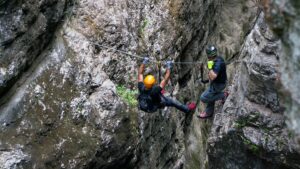 In this warm and sunny autumn, one outdoor sport well worth trying is the via ferrata.
This is a mountain activity that always attracts lots of hikers and involves ascending a route up a rock face fitted out with artificial structures.
In this sport, equipment plays as fundamental a role as ever in ensuring safety.
Before setting off on a via ferrata it's therefore important to acquire some technical outdoor clothing (a few lightweight garments that allow freedom of movement), a helmet, cables and karabiners, gloves and mountaineering shoes.
Via ferratas are to be taken seriously and it's wise to adopt the most safety-first approach as possible, especially if you're a beginner. If it's one of your first outings the ideal thing is to be accompanied by an expert guide and, in general, to avoid setting off alone.
It may seem obvious, but it's good practice to check the weather before you start. Mountain weather can change frequently and suddenly, and it's best to avoid any surprises.
Not all routes are the same and are easy to distinguish using the following classification system: F – easy, PD – not very difficult, D – difficult, TD – very difficult, ED – extremely difficult.
Our mountains offer many routes of all levels, always offering breathtaking sights and panoramic views.
Some of the most famous and loved via ferratas in Italy are:
The Via Ferrata della Marmolada
I Mori in Val D'Adige
The rock faces of the Brenta with the Le Bocchette equipped trails
The Muraglia del Sella
The Cabirol via ferrata at Capo Caccia in Sardinia
Sources:
https://www.info-turismo.it/
https://www.sportoutdoor24.it/