1177 AND DRYARN. COLOURFUL WINTER
12/10/2016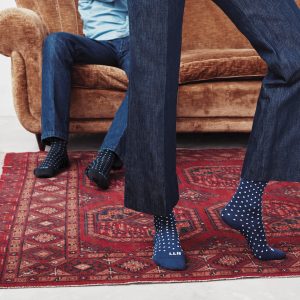 Did you say winter is grey?? No way.
With 1177, Dryarn – very often used in sportswear – is entering the world of fashion with a cool, colourful, fun and irreverent attitude.
With its outstanding breathability and extraordinary lightness it offers the wearer a unique level of comfort, and it's precisely this characteristic that 1177 decided to bring to fashion in a fusion of glamour and technology.
With Dryarn, 1177 is looking to the future by advancing a very strong concept in the increasingly competitive clothing market: that technology and innovation are the most important added values.
Dryarn is the lightest microfibre in the world, and 1177 socks are incredibly lightweight. Dryarn is breathable, practical and comfortable. Dryarn doesn't change over time in colour, size and appearance. It has long-lasting colour stability, stands up to frequent washing and dries very quickly since the fibre doesn't retain moisture. You don't need to iron it and it doesn't pill.
Dryarn is also dermatologically tested and therefore causes no unwanted effects on the skin, especially that of more sensitive people.
1177 socks are comfortable and adapt perfectly to the foot. Dryarn, manufactured with a high percentage elastomer mix, gives great elasticity. And, in a first for the fashion world, 1177 presents the Right/Left sock concept, for comfortable and functional wearability.
1177 is available at the best clothes shops, department stores and online at  www.elevenseventyseven.com