DRYARN® WITH FORCETEK FOR THE INFINITYMASK
22/05/2020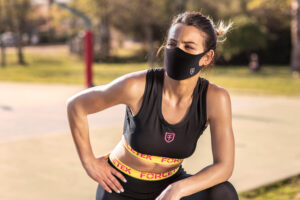 Forcetek, a textiles manufacturer belonging to La Griffe group srl. that specialises in technical clothing for the armed forces and law enforcement services and has long chosen  Dryarn® for its entire Forcetek Sport sports garment range, is today also choosing Dryarn® for its InfinityMask.
The mask – an accessory destined to become a constant feature of our everyday lives – features an ergonomic, three-dimensional, seamless shape that adapts perfectly to the faces of both adults and children while allowing maximum freedom of movement.
Thanks to Dryarn® the mask is breathable and extremely lightweight, enabling people to breathe without the unpleasant feeling of suffocation even when playing sports.
Designed and made to last over time, the InfinityMask is highly durable and features a filter that can be washed at 60° and replaced up to 5 times. It is sold in combination with a kit of 30 filters which, being washable and reusable, offer about 300 days' protection and mean that the mask has a cost of just a few cents a day.
Again thanks to Dryarn® the mask is water-repellent: the fabric does not absorb or retain water on the inside or the surface, it dries quickly and prevents the proliferation of bacteria.
The fabric is certified Oeko-tex Standard 100 class II, is dermatologically tested and hypoallergenic. All features that make the InfinityMask ideal for wearing in direct contact with the skin.
The InfinityMask is 100% made in Italy and stands out for its innovative design. It is double-sided, available in different colours and perfect for wearing in all everyday contexts, from work to physical exercise.