MACRON RUNS WITH DRYARN®
06/11/2018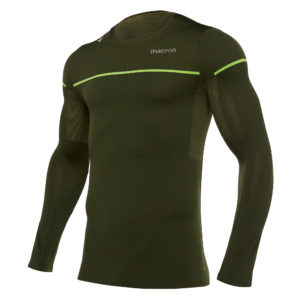 The Bologna-based company chooses Dryarn for AW 2018-2019
Being athletic is a mental state as well as a physical one. Helping you feel good about yourself and comfortable in clothes that let you live out your passion to the full is the ambitious aim of the Macron Running collections for Autumn/Winter 2018-2019.
The Bologna-based company, leader in the European sportswear market, has chosen Dryarn®  for its innovative Michael seamless crew-neck shirt – the real novelty of the Autumn/Winter 2018 season – striving as ever for the functional and technical improvement of each single garment. Passion, dynamism, technology and precision.
Thanks to a high percentage of  Dryarn® the garment is ultra-lightweight and highly breathable, ensuring a pleasant sensation of dryness on the skin in any conditions and offering only the best to professional and amateur runners in a combination of technology and style.
The Michael shirt stands out through a close attention to detail: reflective lettering, mesh inserts on the sides and along the back and jacquard Macron logo behind.
Available sizes: S, M, L, XL, XXL
Retail price € 55 at www.macron.com