SS 2021. OXYBURN AND DRYARN® STILL TOGETHER FOR THE NEW COLLECTION OF OUTDOOR SPORTS TECHNICAL WEAR
09/03/2021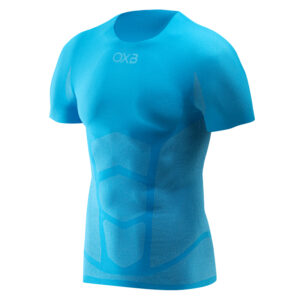 For the Spring – Summer season Oxyburn turns to Dryarn® once again for its collection of outdoor sports technical wear.
Ergonomic, extremely lightweight and comfortable garments that offer exceptional performance in their breathability and fit.
Dryarn® gives the garments a lightness that makes them feel almost like a second skin, and its bacteriostatic properties mean that Oxyburn's products are ideal as first layers to wear in direct contact with the skin.
During intense physical activity Dryarn® wicks perspiration to the outside, leaving the skin always cool and dry and creating a pleasant feeling of comfort even through the most intense workouts.
For Spring-Summer 2021, Oxyburn is presenting three products made with Dryarn® to create an ideal total look for all outdoor sports.
ABDOMINA T-SHIRT
The ultralight fabric of the Abdomina t-shirt maintains a perfect microclimate for the body. Its self-ventilating micro-mesh structure accelerates the transpiration of sweat, leaving the body dry even during high-intensity physical activities. The total lack of seams and raw-cut finishes gives a sensation of total comfort. Thanks to Dryarn® the layer touching the skin is bacteriostatic.
USAGE RANGE 10°C • 40°C
AXO SHORTS
Axo shorts are designed to stimulate the circulation by improving muscle oxygenation, making them ideal for a full range of sports. Made in Dryarn®, the shorts offer high breathability and thermal insulation, essential in adapting to all climatic conditions. Their muscular support, perfect fit and anti-cramp massage action can all be felt immediately. They act on the venous flow and reduce muscle vibrations, enabling significant energy savings, less fatigue and an increase in physical endurance under stress. During the recovery phase, on the other hand, they accelerate the elimination of toxins and lactic acid.
USAGE RANGE 0°C • 40°C
ESCAPE SOCKS
The differing densities in the structure of Escape socks ensure a perfect fit and total protection. Their totally integrated, anatomically elastic structure gives a feeling of movement and control. The layer touching the skin, made in Dryarn®, is bacteriostatic and breathable.
USAGE RANGE 0°C • 35°C