GOURMET STARS… AT HIGH ALTITUDE
31/01/2018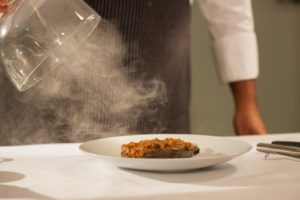 Fine dining in the coolest mountain locations… and 5 stars are guaranteed! Here are some of the most sought-after mountain destinations for Italian haute cuisine.
IL GALLO CEDRONE – MADONNA DI CAMPIGLIO (TN): the restaurant is located in the Hotel Bertelli, already with 10 years' history behind it and under brand new management from last year. The iconic chef Vinicio Tenni has handed the baton to Sabino Fortunato, sous chef, without the restaurant losing its precious Michelin Star. The Gallo Cedrone boasts a prized position in the world of wine: it is one of the few restaurants in Italy to be appointed a Dépositaire of Dom Pérignon.
LOCANDA MARGON – RAVINA (TN): in this delightful family-run tavern you can savour the double Michelin-starred cuisine of chef Alfio Ghezzi. His style is one of "formal rigour, precision and creativity": well worth trying is his "Suggestione Bollicine", in which seven courses are accompanied by five different labels of Ferrari, the TrentoDoc sparkling wine made by the Lunelli family. It's a real journey into the flavours and history of Trentino, and one from which you'll return exhilarated.
AGA – SAN VITO DI CADORE (BL): Oliver Piras and Alessandra Del Favero are partners both in their lives and in their work, with a shared philosophy: directing all their attention to just a few tables for a totally unique gastronomic experience. Having only 16 table placings allows chefs Piras and Del Favero to enter the restaurant and forge a human relationship with their customers, dish after dish. In 2015 the Michelin Guide also rewarded their work with a star, helping them to make their philosophy – and their small restaurant in Alessandra's family hotel, Hotel Villa Trieste – known throughout Italy.
HUBERTUS – SAN CASSIANO (BZ): a restaurant you just can't overlook if you're talking of mountains. At the double Michelin-starred St. Hubertus, a restaurant within the hotel Rosa Alpina, Norbert Niederkofler holds events in his native Dolomites to encourage collaboration between chefs and producers and to promote South Tyrolean cuisine. In "Una cucina stellata per un estasi di sapori" (haute cuisine for an ecstasy of flavours) he tells you all about his philosophy and his plans for the future.
LAITE – SAPPADA (BL): Fabrizia moved to Sappada for her love of Roberto, and together they opened their first restaurant – "a meadow in the sun" – or "Laite" in the Sappada dialect. It's a restaurant comprising only two rooms in a historic and completely restored 19th century mountain cabin. With Fabrizia in the kitchen and Roberto in the wine cellar, their work together has earned them a Michelin star. A beautiful love story, rather like the love you'll feel for their Manicaretti of apple, salted cheese and onion seeds or their aromatic deer with fir tree oil.