ALE' CYCLING AND DRYARN. THE BEST IN BREATHABILITY
19/06/2017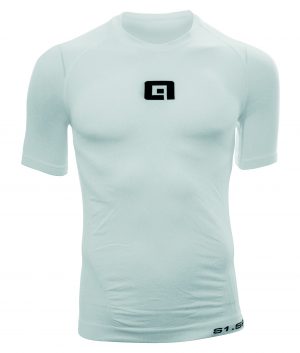 THE BEST IN BREATHABILITY WITH DRYARN
S1 SPRING and S1 SUMMER UNDERWEAR FROM ALE' CYCLING:
Anyone who loves playing outdoor sports knows how important it is to wear technical clothing that ensures a high level of comfort. Handy and practical, knitted underwear worn next to the skin must be comfortable and breathable, allowing the body to eliminate sweat to keep you feeling pleasantly dry.
To create underwear offering optimal wearability, functionality and the possibility to match it with weather conditions, ALE' Cycling has chosen Dryarn, the breathable and thermo-regulating fibre that offers comfort to sportsmen and women when worn next to the skin. More breathable than polyester, more insulating than wool and lighter than any other fibre, Dryarn is the ideal ally for athletes who, during sport, subject the body to stress, heavy sweating and frequent temperature changes.
S1 SPRING and S1 SUMMER are knitted underwear garments created by ALE' Cycling featuring a high percentage of Dryarn, giving the best performance to the wearer. In the body areas needing ventilation and breathability Dryarn effectively assists perspiration and wicks moisture and sweat to the outside, ensuring thermal comfort. In addition, its special Seamless technology (without stitching) enables perfect adherence to the body without tightness.
S1 SPRING and S1 SUMMER are also easy-maintenance garments. They're easy to machine wash, quick-drying, there's no need for ironing and they're not subject to pilling caused by rubbing.
Composition: 84% Dryarn, 8% elastane, 8% polyamide.
S1  Spring: €57.00
S1 Summer: €51.70