HOW TO PREPARE A MARATHON IN THREE MONTHS
27/08/2018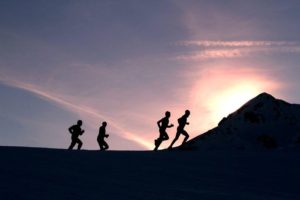 The first time I ran a marathon, in the spring of 1996, was a perfect example of how you should NOT normally prepare for this event.
My friend Nicola, a great sportsman and a gifted athlete, was fresh from completing an exciting edition of the Mezzalama ski-mountaineering trophy, and on a wave of exhilaration he phoned me as soon as he got back from Val d'Aosta telling me (or rather almost commanding me) to try running the Turin Marathon the following Sunday. A week's notice – even for someone like me who is usually fit and well-disposed towards endurance sports – posed a real challenge in the absence of any specific training. And so it was that, in the space of 6 days, I managed to improvise three evening training sessions for a total of 26 km, almost nothing compared to the average mileage of a marathon runner preparing for an event. The race was a mix of enthusiasm and madcap recklessness. I ran the first part prudently with the aim of getting as many kilometres as possible under my belt, but then the crunch arrived after the 25th when I was gradually worn down, and I spent the final 10 km battling with cramp. I remember the last kilometre with the loudspeakers blaring out "Eye of the Tiger" at full volume, and this gave me one last fillip and a great feeling of satisfaction at my ill-advised exploit. An exploit that I paid dearly for in the next 3-4 days, when I could hardly walk due to the huge amounts of lactic acid built up during the effort. I forgot to mention the time, which wasn't bad at all considering how I'd prepared for the race: 3h and 36 minutes.
Preparing for a marathon is something that a lot of people have tried to tabulate and standardize, but in reality every aspiring marathon runner has to follow his or her personal path. This will obviously not differ greatly from the tables, but it represents an individual experience with many possible variables. In each of the 9 marathons I've completed (apart from the first one I've just described) it's taken me about three months to get to the point where I've felt ready. This involves an average of between 600 and 1000 kilometres always with the aim of achieving a crescendo of distances, from 7-8 km in the first session rising to 30 km, and this target must be hit within two to three weeks of the event. When possible I've trained with uphill running (the Maddalena near Turin is an ideal place for this), but more often I've tried to alternate medium distance sessions (about 15 km) at race speed – the pace that I intend to maintain during the marathon – with others in which I've mixed slow kilometres with others at maximum speed to develop my ability to vary the pace. As I've already mentioned, a few weeks before the race it's very important to do at least one (or two if possible) long session of at least 30 kilometres. This is the test that our body needs to undergo to get used to the race distance, because beyond this the metabolism is subjected to important changes as it begins to burn what remains after using up all the sugars in the body. If we haven't tested this limit in training it becomes very likely that during the race we'll hit serious lactic acid problems and big drops in performance over the final kilometres: this is the famous post-30 kilometre crisis that many marathon runners dread.
In my personal experience training is a rather monotonous and boring period, partly because I often or nearly always train alone. But this is fully made up for by the elation and the air of excitement on the day of the race, the moment you've been looking forward to for so many long weeks and the culmination of all your preparations. That day the streets are packed with happy people there to cheer the athletes on, and the extra motivation that this brings can give you a big boost… but always take care not to overdo it, because the reckoning arrives later – or rather after the thirtieth kilometre – and if you push beyond your means you're almost statistically certain to pay the price at the end! Be careful, then, and make sure you're well prepared: all marathon runners also carry a stopwatch to monitor their times at the various kilometres and to manage their effort based on the capabilities that they've fine-tuned in training. If you feel good in the final stages it can also be exhilarating to unleash all the gas left in your legs and attack your personal best, but generally this only happens if you've effectively managed the first part of the race.
There are undoubtedly harder races than the marathon, the 100 km cross-country for example, but the prestige and universal recognition of the standard 42 km marathon is unrivalled by any other running event. The allure of the marathon is often irresistible, both for those who have already experienced it but also, perhaps even more, for those who have never run it other than in their imagination. For me personally, having run 9 marathons the urge to do the tenth is huge, and I've been trying for quite a while to find three months when I can train continuously and attempt to get into "double figures". My last attempts have unfortunately all come to nothing for various reasons, but one trait of the marathon runner (and all lovers of endurance sports) is to never give up. So my tenth marathon remains my constant aim, and I'll be ready to grab the first chance that presents itself to run it. The aim will certainly not be to beat my personal best (2h 53min, achieved in Florence in 1998) but once again to run the legendary distance of 42.195 km to the best of my capabilities and as far as my physical condition allows, enjoying the exhilaration of this great sporting experience.
Franco Ostorero, from Turin, a 47 year-old automotive engineer. In his free time he loves outdoor sports such as running and, in particular, road cycling. From 1997 to 2006 he ran 9 marathons (Turin 3 times, Milan twice, and once each in Paris, Venice, Reggio Emilia and Florence, where in 1998 he set his personal best over the distance of 2h 53' 08″).