GRAVEL BIKING: THE NEW SPORT FROM THE US THAT IS BECOMING A GREAT HIT IN ITALY
20/11/2020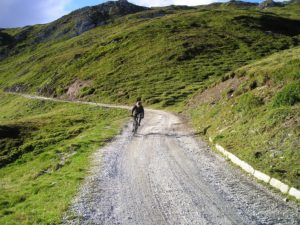 Gravel biking is a relatively new sport that has come straight from the United States and is becoming a great hit in Italy also.
Gravel bikes were invented a few years ago in the USA, so that cyclists can ride along minor untarmacked roads and gravel tracks, as an alternative to the better looked-after but definitely more chaotic and dangerous main roads of America. To enable cyclists to avoid this danger and provide alternative routes, a new type of bike was designed: a cross between a racing bike, an off-road bike and a mountain bike – the gravel bike.
This extremely versatile bike is more erect and less aerodynamic. It is more stable and comfortable and the rider experiences lighter and milder vibrations when pedalling. As it is suitable for gravel, roads, descents on dirt tracks and for the long hours in the saddle typical of cycling holidays, the gravel bike is different from other bikes, especially as regards the frame and the seatpost. Not only that, gravel bikes have many other features that differentiate them from racing, off-road or mountain bikes: wheels, brakes, handlebars, pedals, saddle, steering and much else besides.
Gravel biking is not just a valid alternative on rough roads, it has become very popular among outdoor sport lovers who love being out and about in nature. Their versatility and comfortable ride make gravel bikes ideal for long rides in the pollution-free outdoors.
Gravel biking has also become to all intents and purposes a sporting discipline with actual gravel races (in Italy as well as in the US) which have been received very enthusiastically by cycle sports lovers. These competitions are long-distance races with sections on dirt roads, which require proper preparation in terms of physical and endurance training.
Source: www.sport.it; strada.bicilive.it; www.bikeitalia.it